Product Summary
Mini Tip FLOQSwab® Flocked Swab with 2 mL eNAT® Medium in 16x100mm Skirted Tube with Plastic Blue Cap
Product Number: 6U074S01
50 Kits per Box, 500 Kits per Case
About eNAT™ Collection Kits
COPAN's Collection & Transport Kits combine state-of-the-art FLOQSwab® flocked collection swabs with the superior sample preservation of eNAT® medium.
COPAN's eNAT® system is intended for the collection and preservation of viruses, including upper respiratory tract specimens, bacteria, Chlamydia, Trichomonas vaginalis, and Mycoplasma. The sample collection system completely stabilizes and renders the sample non-infectious within minutes. eNAT® is a versatile system combining a COPAN flocked swab with a guanidine-thiocyanate based medium to stabilize RNA and DNA of viruses and bacteria.
eNAT® medium is specially designed to stabilize and preserve microbial and human nucleic acids (RNA/DNA) for prolonged time periods. The Guanidine-thiocyanate in eNAT™ breaks open microbial cells to release DNA and RNA, while preventing bacterial proliferation and prevents target sequence degradation from RNA and DNA nucleases.
- Securely handle specimens that may contain highly infectious agents using eNAT® medium which contains a detergent and a protein denaturant to completely inactivate microbial viability within 30 minutes.
- Nuclease inactivation provided by the eNAT® medium ensures the integrity of the target sequence and protects polynucleotides against exposure to DNases and RNases.
- Store preserved RNA and DNA in the sample for long term storage for future testing at room temperature for up to four weeks or at -20°C for up to six months.
- eNat™ has been FDA cleared for Flu A RNA stabilization, also has implied use for specimens suspected of containing other viruses, including SARS-CoV-2.
About FLOQSwab® Flocked Collection Swabs
Invented by COPAN, FLOQSwab® flocked swabs are a special type of swab produced with an applicator tip that is spray-coated with short Nylon® fibers arranged perpendicularly. Unlike traditional swabs made with materials that can trap the specimen, flocked swabs use a thin absorbent layer of Nylon® fibers with no internal core, allowing greater sample uptake and release.
| | |
| --- | --- |
| Media | 2 mL eNAT™ Transport Media |
| Product Number | 6U074S01 |
| Quantity | 50 Kits/Pack, 10 x 50 Kits/Case |
| Swab Type | Nasopharyngeal Nylon® FLOQSwab® Flocked Swab |
| Tube Type | 16x100mm Skirted Tube |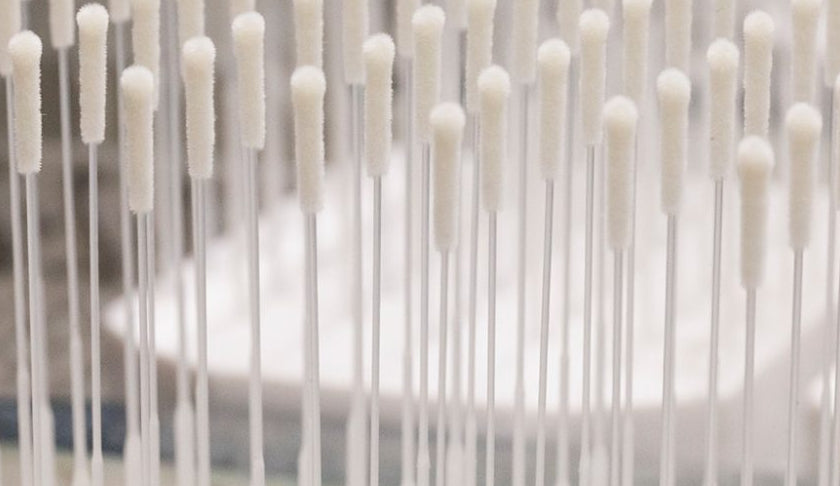 About COPAN DIAGNOSTICS, Inc.
With a reputation for innovation, COPAN Diagnostics Inc. is part of COPAN Group, the leading manufacturer of collection and transport systems in the world. COPAN's collaborative approach to pre-analytics has resulted in FLOQSwabs®, ESwab™, UTM® Universal Transport Medium™, and laboratory automation WASP® and WASPLab®. For more information, visit www.copanusa.com